Writings
Check out some additional writing online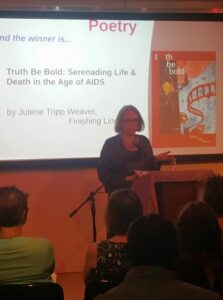 After I was Awarded the Bisexual Book Award for truth be bold—Serenading Life & Death in the Age of AIDS, I had an interview with Bill Kieffer at his Blog site Underground Book Reviews.

Mine is the second interview of three. Enjoy
So delighted my poem, Ice Cream Cravings, is published in this delightful anthology, Ice Cream Poems: Reflections on Life with Ice Cream, edited by Patricia Fargnoli and published by World Enough Writers in 2017.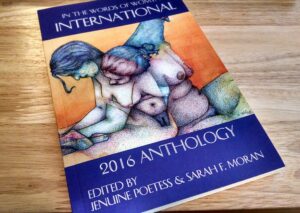 My condensed creative nonfiction story about the night Jimi Hendrix died, "What We Had To Scream About, 1970," was published this spring. A big thank you to Yellow Chair Press for their work publication of In The Words of Women 2016 Anthology. Available to purchase at this link.
"Why I Write," was published on Dustin Brookshire's blog of such collections in 2016. I am honored to have been invited to reflect on my drive and pursuit of writing.
Writing From the Body, an Article from a Writer's Craft Talk given at the It's About Time Reading Series October 2007, (Seattle, WA). It is posted on the website of first annual festival of women's poetry through the Wompo Listserv.
Also, from the first annual festival of women's poetry, I posted a commentary on a favorite poem, "It was my First Nursing Job" by Belle Waring. The link to the poem itself, and to more of her work, is posted on the site in the page with my commentary.
My reading on Blog Talk Radio hosted by Rafael F.J. Alvarado. During this one hour reading  David Rowe reads first, then I follow. A comment on the page for my half of this reading by poet John Burgess: Julene Tripp Weaver isn't afraid to look AIDS in the face. She's a compassionate caregiver with a knack for capturing an unblinking look at final days and aftermaths. Hers is a direct and important poetry for our Age.
A Dream in the Clouds: A politically-neutral collection of poetry, prose, and art inspired by the 2008 United States Presidential Election
features my poem "Over Here, Over There," first published in Drash Northwest Mosaic. My poem was inspired by poet Jayson Iwen. His work and essay on Zajal was published in the same journal of Knock as a poem of mine—read his interview. Intrigued with the 12th Century Arabic folk song tradition Zajal, an interactive call and response form usually with music, I wrote my poem using this form loosely as a guide. The poem, in columns, can be read separately and as one. I read "Over Here, Over There" as three poems, each individual column, then across.
Available for $9.95 from Bobo Strategy, 2506 N Clark #287, Chicago, IL 60614 or at Amazon
Tattoos On Cedar
Julene's poem "Appreciation at the Zoo" is published in Tattoos On Cedar: Members' Anthology Two of the Washington Poets Association, 2006. This poem was originally was a Huh? Award Winner published by Penitalia: Collegiate Erotica at the University of Washington, 2004.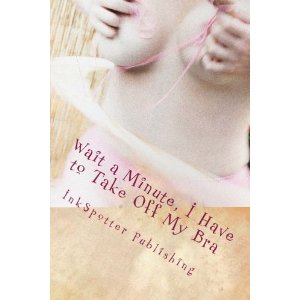 Julene's poem, In the Breast, written to honor the life of Negesti, a Seattle poet who died of breast cancer, is published in the anthology, Wait a Minute, I have to Take Off My Bra.
Available on Amazon!