About Me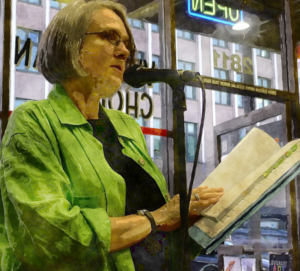 Julene Tripp Weaver (formerly June Arlene Eggler) has her B.A. in Creative Writing from the City University of New York. She chose Hunter College as her main school so she could study with Audre Lorde. In the CUNY program she studied with Joan Larkin at Brooklyn College.
She moved to Seattle in 1989 and enrolled at The Leadership Institute of Seattle, an experiential, self-assessment learning program. She received her Masters in Applied Behavioral Science, orientated in Family of Origin therapy, in 1992. Since then she worked  for 18 years in HIV/AIDS services, which included medical case management and adherence counseling.
Her poem, "death walk," won third prize for poetry from the Unfinished Works Competition sponsored by AIDS Services Foundation Orange County. She traveled to California to read her poem on World AIDS Day, December 1, 2006, at their candlelight vigil and art opening.
Since November 2002, when she studied fiction writing with Tom Spanbauer and his team of Dangerous Writers TM, she also writes fiction and creative nonfiction.