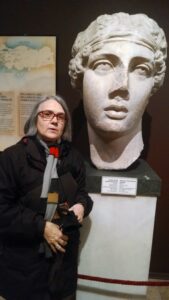 Happy New Year!!
I'm delighted to start January 2018 with my poem Walking Istanbul published in the Bosphorus Review! I traveled to Istanbul at the end of 2014 and was there for the turning of the year to 2015. (The picture is of me with Sappho at the Istanbul Archaeological Museum). I wrote several poems on my return, one won an award in June 2015, so having another published in an English language Turkish journal is a true Turkish delight! 
2017 has been a busy year for my writing. Mainly, I've been promoting my book, which came out in April, truth be bold—Serenating Life & Death in the Age of AIDS (Finishing Line Press).
I did NINE featured readings:
Mattilda Bernstein Sycamore's Contageous Exchanges at Hugo House (Feb)

PoetryBridge at C&P in West Seattle (March)

Seattle Library, Women & AIDS event (April)

Book Release Reading and Party at the Richard Hugo House on April 9th!! 

It's About Time reading series at the Ballard Library (April)

Zippie's Cafe in Everett (June)

The Bureau of General Services—Queer Division in New York City at the Gay and Lesbian Center (Aug) 

King's Books in Tacoma, WA (Oct)

Angst Gallery in Vancouver, WA with the Ghost Town poets (Nov)
The NYC reading lead to my book being taught at Long Island University, Brooklyn campus, to an elective English Honors class: "How to Survive a Plague: Art and Literature in the Age of AIDS," taught by Professor Patrick Horrigan.
The class sent me 27 questions and I did a Skype session with them for one hour and forty minutes; they requested poems read, so I read a poem at the beginning and one at the end; their questions asked about: disclosure, my writing process, details on specific poems, and personal questions. Even after our time they had more questions, which I addressed with a note.
It was exciting to read along with their syllabus and I was thrilled that each reading was paired with readings from David France's excellent book How to Survive a Plague. My book list for 2017, which includes these readings, is posted on my Facebook page, or ask me and I'll send you a copy.
In December, I was awarded a POZ Woman of the Year Award, and featured as one of 100 Celebrating Women who have contributed to the field of HIV/AIDS.
I've submitted my book to six awards and am waiting for guidelines for one more:
Golden Crown Literary Society

Bisexual Book Awards (NOMINATED!!)

Lambda Book Awards

The Poetry Center Book Awards in San Francisco

The Washington State Book Award

Stonewall Awards at the American Library Association
Also, since January I've submitted 90 poems (along with few creative non fiction pieces) to 25 journals. Of these, 16 poems were accepted and are published or will be. I'm still waiting to hear back from six journals.
This has been a tremendous year for my writing and I look forward to see what next year manifests. Three readings are in the planning stages for 2018, so I'll let you know!