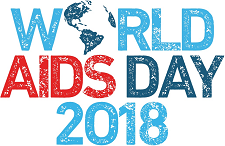 World AIDS Day was launched in 1988 to raise awareness of the HIV/AIDS epidemic, to encourage people to support those living with the condition and to remember those who have died. Some 35 million people are now living with HIV, but experts hope that continuing research will eventually leave to a vaccine and even a cure.
World AIDS Day December 1, 2018, I will participate in the City of Bremerton program, "HIV is Still Here," reading from my book, truth be bold—Serenading Life & Death in the Age of AIDS.This event will be held in the at the Kitsap Department of Public Health in their Chambers Conference Room of the Norm Dicks Government building at 345 6thStreet in downtown Bremerton, Washington, between 2 to 4 pm. Speakers will include Bremerton Mayor Greg Wheeler, Mr. Kevin Hockley of AHF Pharmacy, Mr. Kevin Harding sharing survivor stories, and a prayer and candle light service with Mother Kathleen. The event is sponsored by the Red Ribbon Supper Club who will provide food; the case managers and peer advocate who work at the Kitsap Public Health will be appreciated.
Also, coming mid-December: AIDS It's in Our Blood" Stories of Love, Loss, Rage, and Survival; At Gay City on December 13, 14 & 15. Watch for more details. I'll be creating a performance based on my writing!
Here are some recently published poems and their links: