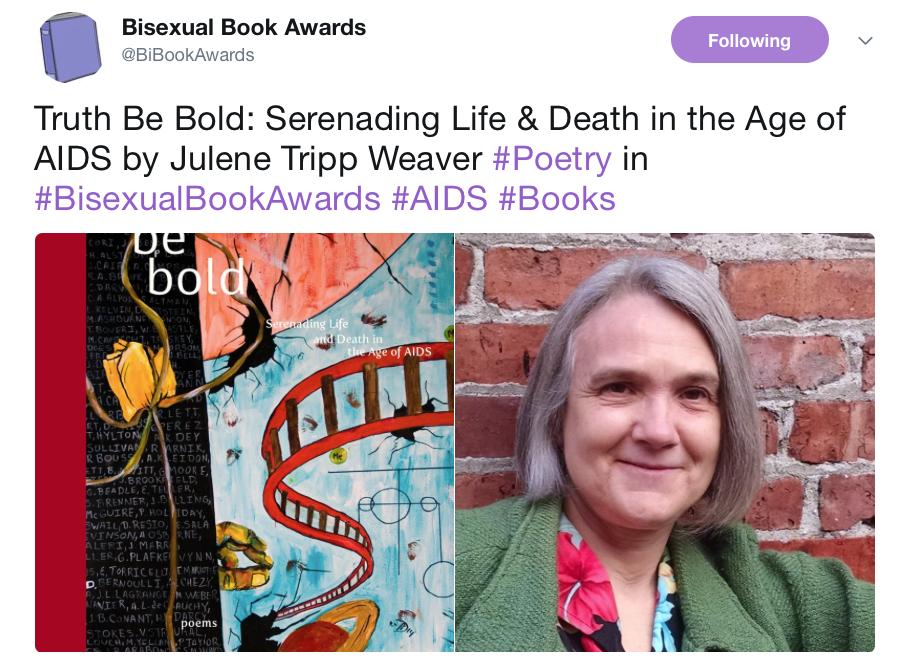 This has been a busy year promoting my book truth be bold—Serenading Life & Death in the Age of AIDS.
Aside from eight poetry readings, speaking with the class at LIU-Brooklyn after reading along with their syllabus, I also submitted my book to five book award contests: The Bisexual Book Awards, The Lambda Book Awards, The American Library Association Stonewall Award, The Washington State Book Award, and the Poetry Center Book Award at San Francisco State University. If you've not submitted to book contests you may not realize their requirements, each contest has it's own guidelines, much like submitting poetry for publication, except for a contest it usually means money and books mailed. The ACA Stonewall Award required someone besides the author or publisher to submit the application.
I'm excited to announce my book is nominated for The Bisexual Book Award. I'm totally jazzed. Their Book Award ceremony is held in New York City, on the same weekend as the Lambda Book Award Cermony, in early June. This means I'm heading to NYC this spring! I'm so grateful to poet Jan Steckel, who blurbed my book and suggested I submit to this award. From my understanding, I will hear about the Lambda nomination sometime in March. With much hope for that nomination, my ultimate goal is to attend two ceremonies on my NY trip!
This year has been so gratifying in so many ways, and next year is off to a good start. Thank you for your support. 
P.S. You can find me on Twitter @trippweavepoet