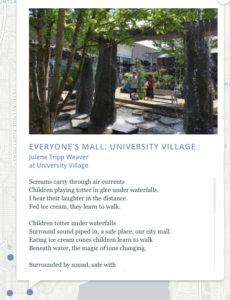 What is the Seattle Poetic Grid you might ask! Poet and writer Claudia Castro Luna was the first Seattle Civic Poet and during her two year tenure she did several projects city wide to promote poetry. Her final project is an electronic map of the city with poems specific to different areas, you click on the spots to find the poem!
I'm delighted Claudia chose my poem Everyone's Mall:  University Village to represent my neighborhood. The poem is written in the pantoum form and touches on environmental politics. University Village covers a stream that has been daylighted and restored in the nearby Ravenna Park. I live in the Ravenna Springs neighborhood and enjoy this park often, in particular the stream. The mall refused to daylight the stream but have a constructed waterfalls where children love to play. Tonight (6/28), starting at 7, I'll read Everyone's Mall at Open Books along with other contributors.
My feature reading at Cafe Zippy in Everett when very well, turns out I had many allies in the audience. Several came up to me at the end and told me their stories. A woman who lost her brother to AIDS the year the cocktail was discovered, but it too late to help him. An artist who remembers in the 90s how every week another artist friend was dying and galleries were constantly trying to keep up with the losses. And there were members of the younger generation  who expressed gratitude to hear the history and to realize AIDS is still an issue. Reading from this book I have more than the typical pre-reading anxiety and as my readings go further from home I find myself highly anxious, but this experience helped remind me that the work speaks to people. I'm excited to announce I have a reading booked in Tacoma at King's Books on Thursday October 5th, even further away than Everett. More will follow on this reading.
Here is a brief blurb of feedback I received this week for my book truth be bold—Serenading Life & Death in the Age of AIDS: "A very strong book filled with lives ended too soon and dreams unrealized. I don't know when I've read a book of contemporary poetry this powerful."