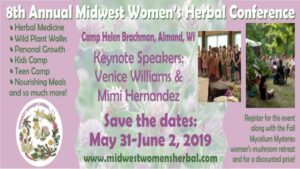 This will be my first time attending & presenting at the 8th Midwest Women's Herbal Conference
The theme of the conference is: Nourishing Ourselves & Our Communities
My workshop: Giving Our Health Word Power
This workshop will provide a clearing space to crystallize what is necessary for your health, no matter the challenges. We will explore our personal experience through writing to our illness, to our loved one, to our pain. Through timed writing and discussion, this presentation will encourage finding one's voice, developing our inner resources, and the healing power of epression to confront stigma and promote strength. Bring a notebook and pens.
I will read my poetry before the Keynote Speakers on Friday Evening:
Venice Williams, Herbalist, Community Organizer and Director of Alice's Garden 
Mimi Hernandez, Herbalist and Director of the American Herbal Guild
There will also be a talent show on Saturday night! I'm so looking forward to attending this herbal conference; they have 400 women registerd, although some of the Pre-conferences are still open and they have started a wait list. Please check out their website.
Publications
Two poems were published in March! And five poems accepted for the Stonewall Legacy Anthology! 
"Starting Over" published online at MookyChick on March 15, 2019, for their theme "Kintsugi," the Japanese art of repairing  pottery with a lacquer that is infused with gold powder. This journal is published in the UK!
"The Crossing" an ekphrastic poem after Debra Frites art, "Empty Buckets," published online at Mad Swirl on March 19, 2019. My third time publishing there, I now have my own page featuring poems of mine they've published with my bio and picture! And, on March 23rd "The Crossing" was featured with The Best of Mad Swirl for March!
Hoping you had a wonderful National Poetry Month generating new work.