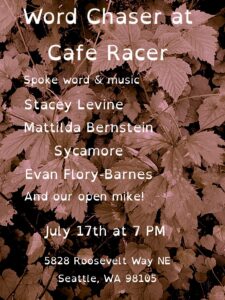 Come out to Word Chaser at the Racer this third Wednesday in July to catch two fabulous local writers, Stacey Levine and Mattilda Bernstein Sycamore, and to hear the infamous bassist and composer  Evan Flory-Barnes. His show "On Loving the Muse & Family" previewed and sold out at On The Boards. This evening will be stunning!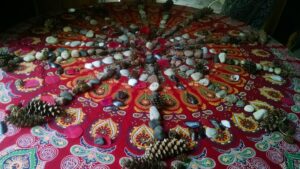 "Nourishing Ourselves & Our Communities" was the theme for the 8th Annual Midwest Women's Herbal Conference that I attended in March. Run by herbalist Linda Conroy (Moon) she has built this conference from the ground-up and it is great to see the smooth running, informative, accessible conference she has created. The picture of the alter is to show the outcome of the group ritual to open the conference. Each stone, cone, clam shell, muscle shell, bean, or rose petal carries the intention of one of the women who came to the conference. The team working the conference created these wonderful experiences to grow community. At the end of the conference in the closing ritual this alter was destructed. We go into the world again, our intentions now grown from the work we did.
Because this conference is held at a campground that is capped at 400 attendees and because there is a demand for more, she has started a fall conference focused on mushrooms. This years 3rd Annual Mycelium Mysteries will be held September 27-29. If you've not experienced a conference composed solely of women and you have a desire to explore herbs, mushrooms and nature, consider one of these conferences. 
Publication News!
Chris Rice Cooper's Blog featured me in their #108 Backstory of the Poem Cupcake! It was a thrill to be asked to write up the history of one of my poems. This blog is a great resource I did not know about till Chris reached out and invited me to contribute! This is an early poem of mine that lives in my first full-sized poetry book, No Father Can Save Her, which can be found on Amazon, but Open Books has a copy! And check out some of the other poem backstories with poets such as Alexis Rhone Francer.
Also, my poem "Precious Visit with Daphne," was published at MookyChick, in the UK! This is the second poem of mine they published; it was submitted to their call for work that related to the Dutch word Gezellig, which loosely translated means cozy; like a close friendship, or a cozy cafe, or a place that is well designed for humans to be comfortable in, or an atmosphere that allows good times to happen. I love this editors approach, so pulled out a few poems I had never submitted before because they feel so personal. I'm delighted this poem moved her.