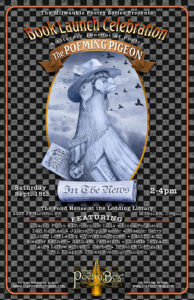 I'm thrilled to have a second poem accepted for this new issue of The Poeming Pigeon, themed on "In The News!" The book launch celebration is on Saturday, September 15th, and I'll read my poem, "Swept Under the Rug."
The Pond House (at The Ledding Library)
2215 SE Harrison Street, Milwaukie, OR 97222
Time: 2—4 pm
Please consider joining us to hear readings from this great group of poets:
Collette Tennant, Nancy Flynn, Cathy Cain, Julene Tripp Weaver, Shawn Aveningo Sanders, Laura LeHew, Vivienne Popperl, Eleanor Berry, Kathleen Patterson, Dan Raphael, Linda Ferguson, Lynn Knapp, Eleanor Kedney, Lindy Low Le Coq, Brittney Corrigan, Brad G. Garber, and Christopher Luna.
Three additional poems of mine found homes online since my last News update:
"Rules on Life From a Green Witch" published on Anti-Heroin Chic on August 1, 2018.
"Father's Day Raging Hell Fire, 2018" and "Milkweed" published online at Voices On the Wind, in Issue 74 Voices on Fire.
"Coffins Side-by-Side" published online at Eunoia Review on August 26, 2018.
Thank you for reading my News. I look forward to connecting.