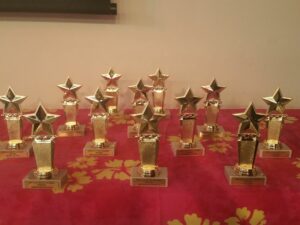 My book was a finalist for the Bisexual Book Award and the Lambda Book Award, so I went to New York City to attend these two events. The Bisexual Book Award was held at the artist co-op Westbeth, down the block from where I used to live.
I am proud to share that my book, truth be bold—Serenading Life & Death in the Age of AIDS, won the Bisexual Book Award for poetry! It was quite the thrill to be one of the readers at this event and to accept this award, I'm grateful that many of my New York friends were able to attend.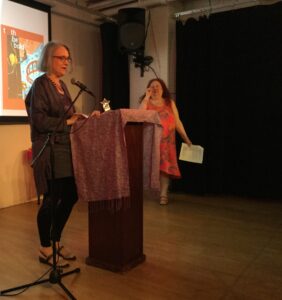 In this picture I am giving my acceptance speach, thanking the many people who contributed and assisted bringing this book to completion. I also made a political statement, "I stand before you nearly thirty years strong, and still there is no cure. We must come together again as we did in the early years with ACT UP."
Dropping by the Bureau of General Services—Queer Division bookstore at the Gay and Lesbian Center, where I read last year, I found my books in a prominent position on their shelves. I was pleased to let them know my book won the Bisexual Book Award. If you live in New York and want a book, please visit their store! They will be remodeling soon and as wonderful as their bookstore is, it is going to be even more fabulous!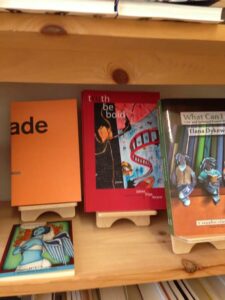 Although my book did not win the Lambda Award, I was honored it was a finalist, it was an amazing professional event. My book was in their Bisexual Nonfiction category (the Bisexual category does not have a poetry section) and up against Roxane Gay's book Hunger. Her book got the award and I am very pleased for her. Being on the red carpet was fun, I spoke with Edmund White, and met some great new friends at the Lammys!
Thank you to everyone who made this possible!
Coming up I will host an Ice Cream Anthology reading at Poetry in the Park on July 7th. It's a free event with lots of great readers and workshops. Ice cream will be served to all! Be sure to attend if you are in the area.
In August I will read at It's About Time on the second Thursday. The weekend following I'm attending the Words and Waves Retreat, with Rebecca Mark and Linda Chrisman, on Vashon Island. This is a process Emilie Conrad and Rebecca Mark taught together for years, combining Continuum Movement and hand-to-page exploration. I am very excited to participate in another of these groups, it is work I fell in love with in 1996 and taught for ten years (1997 to 2007). 
Also, I was accepted to present at the International Forum for Psychoanalytic Education, which is coming up in October in Seattle. Their theme this year is Unsilencing and I was invited to apply.
Have a great summer everyone, I'll check back in with more news once things settle a bit!