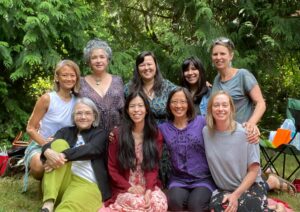 Year-Long Creative NonFiction Manuscript Cohort 2021-2022 with Anne Liu Kellor 
Completion, with Celebration Ceremony & Ritual on August 13th
We met together in real time after a year meeting twice a month on Zoom; we did weekly homework assignments, had 1:1 meetings with Anne, four extensive feedback sessions—reading and reviewing each others work, and a final 80,000 word reading of our manuscripts with feedback. It was such a gift to work with Anne and this talented group of writers. My manuscript and life evolved in the process. We expressed our appreciation of each other on a ceremonial blanket in the center of our circle. A few of the words gifted to me: medicine woman, vulnerable, inspiring, rule breaker, witness, groundbreaking… 
Anne's book, Heart Radical: A Search for Language, Love, and Belonging, was published at the beginning of this year, so she has been a perfect role model going through a full year of promotion, getting interviewed, written up in local newspapers, magazines features; her book won prizes and was nominated for awards. She has been a remarkable role model. Her vulnerbility to share her process was inspiring and helped us realize the depth of the journey we're on. The group is dedicated to continuing without her to maintain support and to stay engaged with the writing needed for our projects. 
Bainbridge Island Fun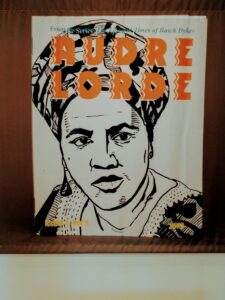 This spring my partner, John, and I took the ferry to the Bainbridge Island Museum for their exhibit, "Troubling: Artists' Books that Enlighten and Disrupt Old Ways of Seeing."
They have a small room upstairs dedicated to rotating small art books and zines, but they hold a much larger collection; every three years they do a feature exhibit in the larger space. It was a delight and I witnessed the small zine: From the Series, The Life and Times of Butch Dykes," Issue 1, Volume 5, 2013, with Audre on the cover.
Inside the book is her quote, "Cancer put everything in sharper focus. Caring for myself is not self indulgence, it is self-preservation and that is an act of political warfare." 
They enlarged the cover to hang, as we walked through the door she was right up front. We enjoyed the many works of words by artists far and wide. After, we went for the infamous Mora ice cream.
Poetry News
"Free Love" was published in Poetry Super Highway! 
"Pupal Soup" one of my pandemic poems, was published in Oddball Magazine, the second poem of mine they've published! The earlier one was "Dyad." Check them both out!!
Two poems published, with beautiful images! "Cento for My Younger Sister with Multiple Myeloma," and "After the Ultrasound," are published in HEAL, Humanism Evolving through Art and Literature, by Florida State University College of Medicine.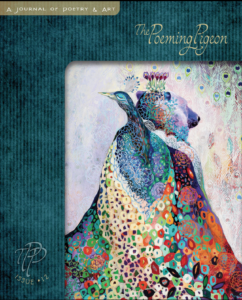 Coming this fall, I have a poem in The Poeming Pigeon, Issue #12, copies are available for pre-sale now, and at a discount! They have revamped the cover with a georgeous peacock, and I'm so excited to once again be published in one of their journals.
I hope to travel to Portland, OR for a reading. It's been a long time since I've read my work at a live reading. 
Memoir Writing Continues
More news will follow; I've applied for residency programs to have time away to dig in and do the editing needed on my manuscript, now at nearly 90,500 words! I've learned a ton and will continue to improve my beast of a manuscript!