Memoir News
I am so grateful to spend three and a half weeks as a Vashon Artist-in-Residence!! I had a room with a view! It started on March 27th, till I returned home on April 20th! I worked on my memoir manuscript tentatively titled: "Secrets & Life Stories of an HIV Suvivor." 
Working with Priscilla Long in the Jack Straw Writing Program, she gave me the brilliant suggestion to separate out my younger year stories and to work on two memoirs at once! I performed this surgery while a Vashon Artist-in-Residence (AIR).
Speaking of Jack Straw, this years group of writing fellows will read new writing the first three Fridays in May, each starting at 7 pm! I will read on May 19th, the third Friday.
See the invite page on Facebook. I would love to see you there, and it will also be available online. In person masks are required and there is a $10 fee, which included the Jack Straw Anthology for this years writers.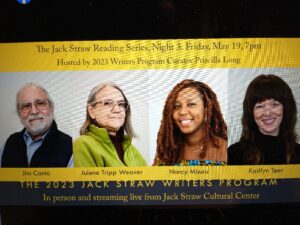 Poetry News
"Family of Random Churches," was published by Drip Literary Magazine, Issue 2, on February 15, 2023.
"Baby-Girl," published in Anti-Heroin Chic, on April 1, 2023.
"Watching Birds & Other," publishe in Mad Swirl, on April 21, 2023.
At AWP (it feels so long ago!) I read in an off-site reading for the anthology Rumors Secrets & Lies: Narrative Poems about Pregnancy, Abortion & Choice! Order online from the press (linked) or from their distributor, Itasca Books.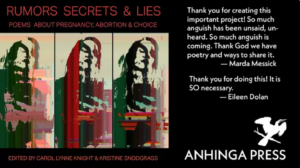 My poem, "Salmon: Our Northwest Pride" was selected by Washington Poet Laureate Rena Priest for the anthology, "I Sing the Salmon Home: Poems from Washington State," published by and available for sale at: Empty Bowl Press.
Writing Through the Apocalypse, writing from Marcia Meier's Saturday morning writing group with the same name, is now available. We started meeting at the beginning of COVID-19, March 2020, and continue to write weekly. This wonderful anthology contains six of my poems:
A Love Story

Saving the World
When I Die
Breathing Space
The Gift to be a Writer
Please Remember
Purchase directly from Weeping Willow Books, at Barnes & Nobles, or from other book selling platforms.
It's a great honor and privilege to have my poems in three anthologies published so close together! Plus, the Jack Straw Anthology will be published in May.