Jack Straw Readings
On May 18th I read my essay that was published in the Jack Straw Anthology, "Avoiding Burnout in a 365/12/7 Work Environment," at Jack Straw. Watch it on their YouTube channel here!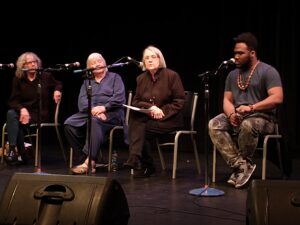 On May 29th I read my essay, "Babes with AIDS," about the start of the Babes Network, on the Center Stage at Folklife, watch it on my YouTube channel! We had a Q & A afterward that was not recorded. A huge thank you to my friend who recorded this talk!!
I'm excited to announce I'll be on a panel with authors John Treat, Felice Picano and Patrick Milian!
How to get Banned: An LGBTQ Book Panel at Folio: The Seattle Anthenaeum, in the Pike Place Market. Thursday, September 21st, 6:30 pm. Pay what you can registration!
Jack Straw Readings:
Village Books, Bellingham: Saturday, October 14, 4pm
Seattle Public Library downtown: Saturday, November 4, 2pm—registration required.
SoulFood Books, Redmond: Thursday, December 21, 6pm
Poetry
"Insomnia," was published in Medmic on May 22nd 2023.