Is the COVID pandemic over? Some are acting like it; yet many who are immune compromised know that it is not over, people are still getting sick and even with the vaccines it is a risk for many.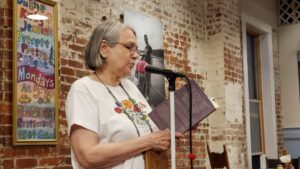 I've started venturing out with care, not traveling by plane, but staying local; attending an outdoor party, a reading where people were spaced out, and attending a play wearing a mask.
I read open mike in Everett at their Monday night reading series. Now at The Sisters Restaurant, next to the Co-Op at 2804 Grand Street! My friend Leah Mueller was featured, and it was a delight to see her in town from her new home in Bisbee, AZ.
Big Deal Birthday!
This year I turned 70!! My partner gifted me a simulated sky dying experience at iFly. One of my bucket list items! It was tremendous to feel my strength and stamina. Of course, I wrote a poem about it that was accepted by Silver Birch Press for their theme: One Good Memory, which indeed it was! It will be my first poem in this publication.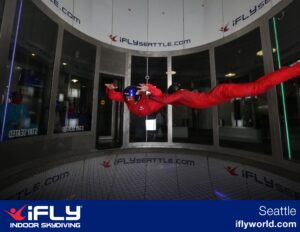 We went to see the show Hamilton, another first, to see this phenomenal performance; on my actual birthday day, a visit to the Roman Bearden exhibit, with a jazz concert at the Frye Museum. It was a lovely birthday month, fulfilling and rich.
Time to Work on my Memoir! Vashon AIR!!!
In October I'm took a writerly week away, without internet distraction, to work on my memoir.
Before I left, to my delight, I received news I was accepted into the Vashon Artists In Residence program for 2023. I'm honored and thrilled I will have this time to continue working on my memoir. 
Poetry News!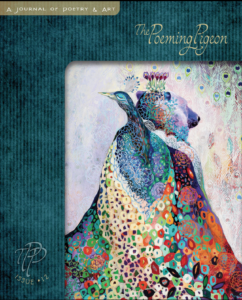 A Reading: November 12th, I'll read my poem, Loosley Knit, published in the Poeming Pigeon, a publication out of Portland, OR. The reading will feature 20-25 poets on Zoom, 4 pm Pacific time zone. I hope you will be able to attend, please contact the press for the link, and I'll post it on Facebook. 
Rumors, Secrets & Lies: Poems About Pregnancy, Abortion & Choice Anthology published my poem, Two Fetuses Aborted, written after the demise of Roe vs Wade.
Pre-sales are available now, order here! Please consider supporting this important book filled with women's stories.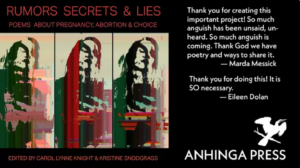 Thank you for reading and supporting writers!