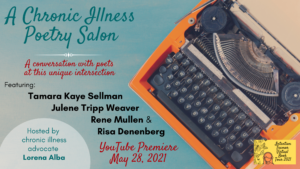 A Chronic Illness Poetry Salon
When & Where: YouTube Launch Day May 28, 2021
(link forthcoming)
Who: Features Tamara Kaye Sellman, Julene Tripp Weaver, Rene Mullen, Risa Denenberg, hosted by chronic illness advocate Lorene Alba.
What: A pre-recorded, hosted panel discussion exploring the intersection between creative writing and chronic illness. All four poets will read from their work. Topics include using poetry to witness the chronic illness experience, catalystes for writing about chronic illness, the impact of the pandemic on writing poetry, and how writing poetry can be a healing art. Medical conditions such as asthma, mental health, multiple sclerosis, HIV, and others will be explored, with insights coming from both those living with chronic illness and those who work in healthcare.
Julene's News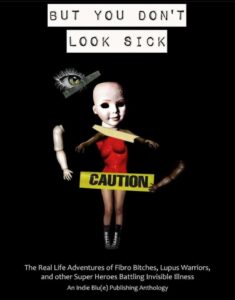 OyeDrum Magazine published my poem "Don't Tell," on March 30, 2021
Passager Journal published my pandemic writings from February 13, 2021 in their Pandemic Diaries feature! The night of a snow storm in Seattle I reflected on the homeless problem we have in our country. Scroll down on the page to see my two paragraphs! (picture with text below!)
Beatnik Cowboy published my poem, "The Photoshoot I Desired A Lifetime Ago," on April 1, 2021.
An upcoming anthology to feature my writing:
But You Don't Look Sick: The Real Life Adventures of Fibro Bitches, Lupus Warriors, and other Super Heroes Battling Invisible Illness, will contain two of my essays about being a long term survivor.