Anthology Now Available!!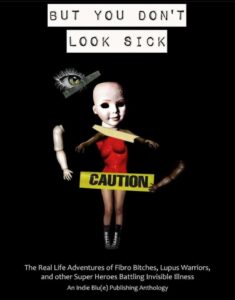 "But You Don't Look Sick: The Real Life Adventures of Fibro Bitches, Lupus Warriors, and Super Heros Battling Invisible Illnesses" is available for purchase! 50% of royalties above production costs will be donated to organizations that support  individuals living with invisible illnesses.
Two essays derived from my memoir in process: Living a Life Invisible While Surviving AIDS and First Cohort Long Term Survivor: My Body as Experiment.  
"But You Don't Look Sick is a stunning display of the suffering people with invisible illnesses undergo. The diverse range of personal stories evoke despair, desperation and especially frustration at the lack of answers the medical community can get tese Fibro Bitches, Lupus Warriors, and other Superheroes battleing invisible illness. Above all, however, But You Don't Look Sick is a powerful human showing of how opening to one's pain generates chourage and helps spread awareness. By opening the heart and manifesting compassion, this book helps drive change." —Jaya Avendel, Author & the poetic voice behind Nin Chronicals
But You Don't Look Sick is available for purchase throughout the world from Amazon (print & Kindle editions), B&N, Book Depository, Pothi (India only), Walmart, Waterstones, and other major online book retailers including Bookshop.org and IndieBound. The list price is $19.99 USD for the soft cover edition and $6.99 for the Kindle edition of this 538-page anthology. 
Poetry News
"Slow Growth," published in Anti-Heroin Chic on December 7, 2021
"Tax Return Guy," published in Sledgehammer on December 18, 2021
"Letting Go," published in Hags on Fire, Issue 4, Theme: Expectations, on Decmber 19, 2021